THEME
Climate
Rotary is uniquely placed to empower local communities around the world
to implement Climate Solutions that help reverse global warming.
If one Rotary International President could inspire millions
of trees to be planted, imagine the opportunities that await.
WHAT IS IT?
Climate at ESRAG

How do Climate Solutions benefit humanity?
The impacts of climate change threaten human civilization and planetary health, but it is not too late to act. Many of the measures to limit global warming to 1.5º C will also protect human health, enhance food security, reduce a major driver of mass migration, and ensure the availability of safe water. In short: climate action protects all of Rotary's other humanitarian investments. Climate solutions make communities more resilient to catastrophic storms, forest loss, drought, heat, and sea-level rise.
Learning Resources

Learn about suggested resources and ESRAG guides and handbooks to take action on today.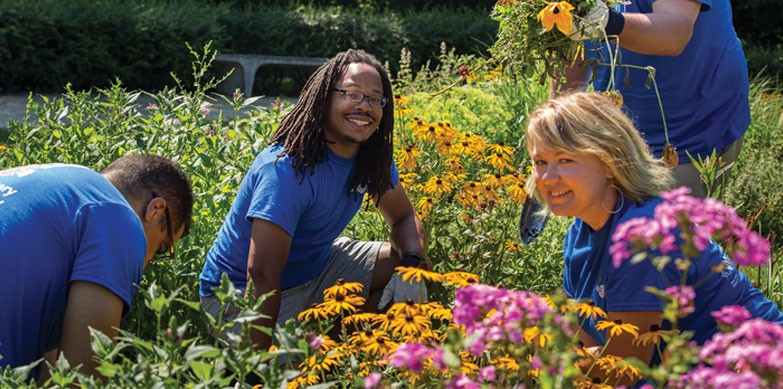 Climate Solutions

Drawdown is the point in the future when levels of greenhouse gases in the
atmosphere stop climbing and start to…
UNEP Handbook
Its purpose is to educate and inspire Rotarians around the world to take action for the environment.
Rotarians around the world share gratitude for John Mathers, founder of the Rotary Climate Action Team Network – now more than 900 clubs strong. In this remembrance Rotary friends and colleagues celebrate his impact in equipping Rotarians for climate action, his dedication to building the leadership of youth, and his tremendous empathy and zest.
"Eat plants and plant trees" is the take-home message of this three-part talk that Australian climate scientist Gerald Wedderborn-Bisshop recorded for ESRAG's Plant-Rich Diet Task Force on the potential of rewilding grazing lands and ending deforestation to reverse global warming and protect human food security.
The search for the next Winners of The Earthshot Prize 2024The search for the next Winners of The Earthshot Prize 2024 has begun and ESRAG is proud to be an Official Nominator. The Earthshot Prize is a global environmental prize and platform for impact, dedicated to...
Take Action for Climate

Rotary's global distributed network of community leaders
can implement solutions to slow the worst of the impacts.
ESRAG is here to help with solutions.
Every Club Climate Friendly

Become a climate friendly and carbon neutral club before 2030.
Flight Carbon Estimator

Compensate for the carbon impact of your air travel by estimating your carbon emissions
Food Systems

Become a food steward. Reduce greenhouse gas emissions, save
resources, save food.
Habitat Solar
Address energy povery for Habitat for Humanity, low income, home owners.
Lunch out of Landfills
Students divert lunch waste by sharing edibles, composting and recycling.
Renewable Energy

To encourage, educate and offer support for those involved in renewable energy projects worldwide.
CLIMATE
Featured Projects
Projects surrounding climate.
CLIMATE IMPACT

Resources

Rotary's vision, mission, and seven areas of focus
strongly support our individual and collective
work to mitigate and adapt to climate impacts.
Resources
Rotarians understand that the whole world is their backyard. They can see the effects of climate change in communities they care about, and they haven't waited to take action. They're tackling the problem the way they always do: coming up with projects, using their connections to change policy — and planning for the future." – ROTARY.ORG
Learn more about Rotary and Climate 
Resources on climate change and practical solutions
Project Drawdown, with which ESRAG has an MOU, offers a curated menu of available climate solutions with metrics as to relative effectiveness and cost. ESRAG has Taskforces to help you implement many of the Drawdown solutions.
Rotary Climate Action Network, offers an array of excellent recorded talks to share with your Club, practical advice on forming a climate action team, and actions you can take on the climate crisis.
Citizens Climate Lobby (CCL), a non-partisan group founded by a Rotarian, equips people to engage their elected officials in support of pricing carbon pollution, one of the most effective ways to bring down carbon emissions.
Global Footprint App, helps you calculate your impact on carbon emissions and planetary systems. It offers country-specific data which nations are starting to use to analyze their consumption and make changes that will restore us to living within our planetary means.
EnRoads, developed by MIT scientists, simulates the interaction of various combinations of actions to reduce greenhouse gas emissions. This simulator is a wonderful way to engage your community in exploring and choosing solutions.
Many universities maintain comprehensive science-informed information centers about climate. Examples include Yale's Climate Connections,  & University Madison, Wisconsin's Initiative on Climate Change Impacts.
Explore what your local university has to offer.
Understand your audience so that you can speak persuasively about climate change.
Learn how to prevent spiraling, irreversible, climate feedback loops caused by forest loss, wildfires, melting ice, and thawing tundra that will intensify and accelerate the climate crisis.
The United Nations Environment Programme (UNEP) is the UN Agency that supports all efforts to protect the environment worldwide. https://www.unep.org ESRAG and UNEP co-authored the World Environment Day Handbook of project inspirations, in English and in Spanish.
UNFCCC, the United Nations Framework Convention on Climate Change manages the development of national plans to reduce greenhouse gas emissions to keep warming to 1.5ºC, manages the scientific work of the IPCC (Intergovernmental Panel on Climate Change) which informs mitigation and adaptation strategies, and hosts the annual Climate talks in which Rotary now participates.
Measure and track the sustainability and impact of your long-term climate solutions through project reporting using ESRAG's iRotree App.
Climate 101
Together we can help the world reach "Drawdown"— the point in the future when levels of greenhouse gases in the atmosphere stop climbing and start to steadily decline, thereby stopping catastrophic climate change — as quickly, safely, and equitably as possible.
Climate Science
Rotary's vision, mission, and seven areas of focus strongly support our individual and collective work to mitigate and adapt to climate impacts. For example, educating girls is both a top climate solution and essential to Rotary's focus on Basic Education and Literacy. Giving women and families access to family planning aligns with Rotary's focus on Child and Maternal Health. Providing clean energy like wind and solar to low-income and developing communities improves health and economic development by making it possible to purify water, cook, refrigerate food and vaccines, study, communicate, and provide basic medical care. Farming practices like silvo-pasture, restorative agriculture, intercropping, and managed grazing not only pull pollution out of the air, but also create rich soil that is more resilient in extreme weather. Eating a plant-rich diet improves our health while reducing greenhouse gas emissions and deforestation. 
Learn more about: Climate Science
ESRAG: Circular Economy opportunity, challenges for EnvironmentSpeaker: Gertrude Ngenda
Topic: Circular Economy opportunities and challenges for Environmental Sustainability
December 6th 2023 at 2:00 pm
More info
---